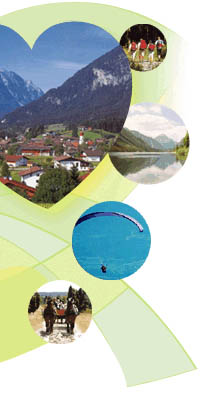 Höfen (869m) is a marvellous and peacefully situated village at the foot of the Hahnenkamm (not to be confused with its far more famous brother in Kitzbühl!) (2000m) not far from the valley Lechtal.
Our house is just 5 minutes away from Reutte, the municipality of the district Außerfern.
In summer, the "Alpenblumengarten" up on the Hahnenkamm , a gorgeous area full of the most beautiful alpine flowers, is worth a visit. This area offers a great variety of outdoor possibilities, numerous hiking and walking trails for beginners as well as for advanced sportsmen.
Located at the crossroads, our house is a short drive to the finest local attractions including the castles of Neuschwanstein, Linderhof, Ettal. Our area attracts people who want to enjoy the nicer things of life, reading a good book, a quiet walk after dinner as well as the stillness of outdoor
mountaineering, biking, riding, sailing, swimming, fishing, skiing, cross country skiing, paragliding, hang gliding, snowboarding, playing tennis or romantic carriage